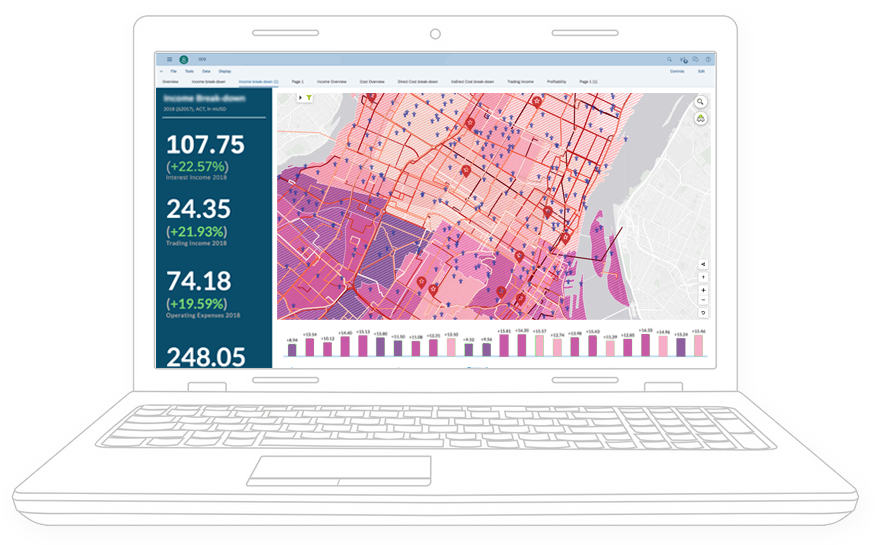 Galigeo For SAP Analytics Cloud
Unveil Spatial Insights in SAP Analytics Cloud
Harness all the potential of Spatial Analytics, by leveraging the where dimension contains in the data directly within SAP Analytics Cloud.
Galigeo brings in all core geomapping and spatial features at your fingertips, so you can focus on making the best decisions.
Trusted by the best companies around the world

Make Better Decisions with Location Data & Spatial Analytics
Galigeo lets you take advantage of the spatial dimension contained in any data.
Plug-n-play
No tedious configuration. Start leveraging Spatial Analytics in minutes and get immediate value.
Self-service
Designed to be used by anyone. No prior skill in GIS or geomapping is required to create rich, meaningful spatial analysis stories and applications.
Comprehensive
Access built-in spatial and geomapping features in one clic. Blend and analyse any data spatially, and easily share your findings.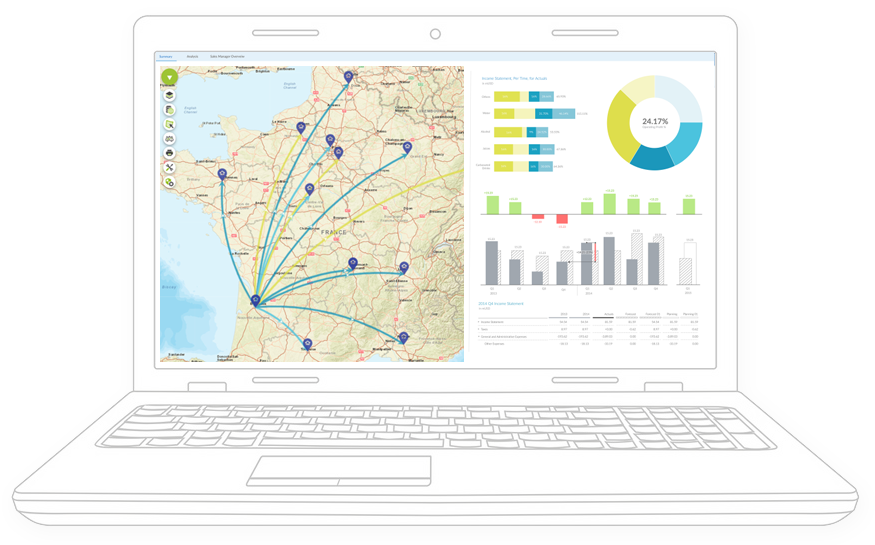 Every business and industry need Spatial Analytics
Did you know that 80% of data contain a spatial dimension?
It's an unexploited goldmine that you absolutely need to start digging.
Galigeo for SAP Analytics Cloud helps you harness this spatial dimension easily and rapidly, so you can fully answer to all your location-related challenges.
Galigeo For SAP Analytics Cloud
Get a glimpse of all the built-in spatial features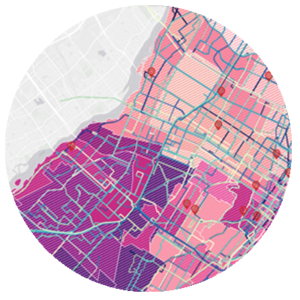 Any Data
Combine your own business data with contextual data (economic, weather, etc.), and discover new correlations.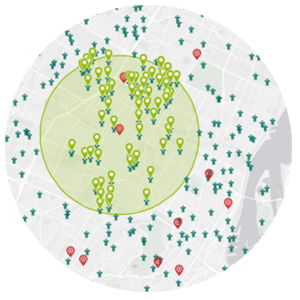 Spatial Selection
Take advantage of spatial selection functions, such as isodistance or driving time to segment, filter and extract data relevant to your business.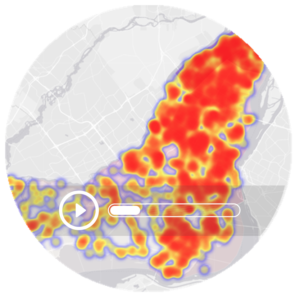 Time-series
Animate your data by choosing a time axis, and observe the evolution of your business through space and time.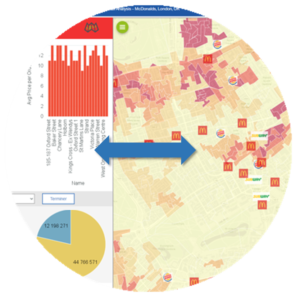 BI Interactions
Perform actions on the map to interact with all the other components of your dashboards to master your insights discoveries, and vice versa.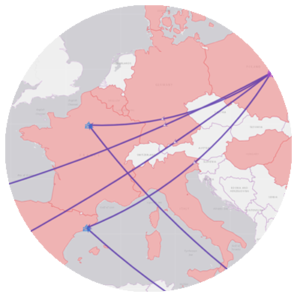 Advanced visualisations
Quickly get a fresh look at data by enabling one-click advanced visualizations, such as heatmap, clusters, or flows.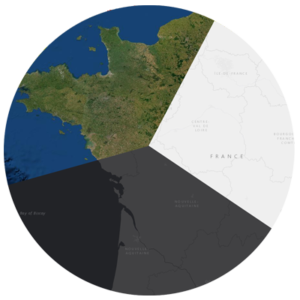 Basemaps
Choose from a wide variety of basemaps (ESRI, OpenStreetMap, Google,…) or use your own from your GIS server.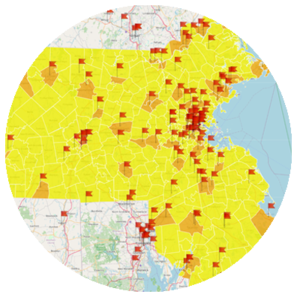 Territory Management
Create, balance and consolidate new territories according to the KPIs you want, by drawing or automatically using the integrated Artificial Intelligence engine.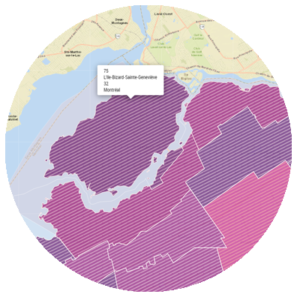 Collaboration
Collaborate by commenting and annotating directly on the map, to share your insights with your team.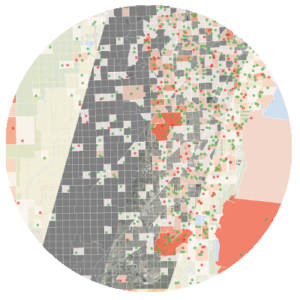 Print & Share
Export your reports including the map, or use your own templates to print your maps in any format.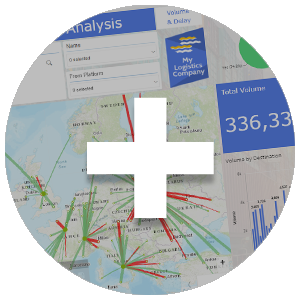 And more to discover!
Test for yourself all the functionalities of Galigeo for SAP Analytics Cloud.
Geodata
Blending GIS Data with Business Data within SAP Analytics Cloud
Galigeo can connect to any GIS Servers, such as Esri ArcGIS, GeoServer or Hexagon Spatial, and blend geodata with business data handled in SAP Analytics Cloud.
No GIS ? No problem, Galigeo runs on its own, and come with its own catalog of geodata.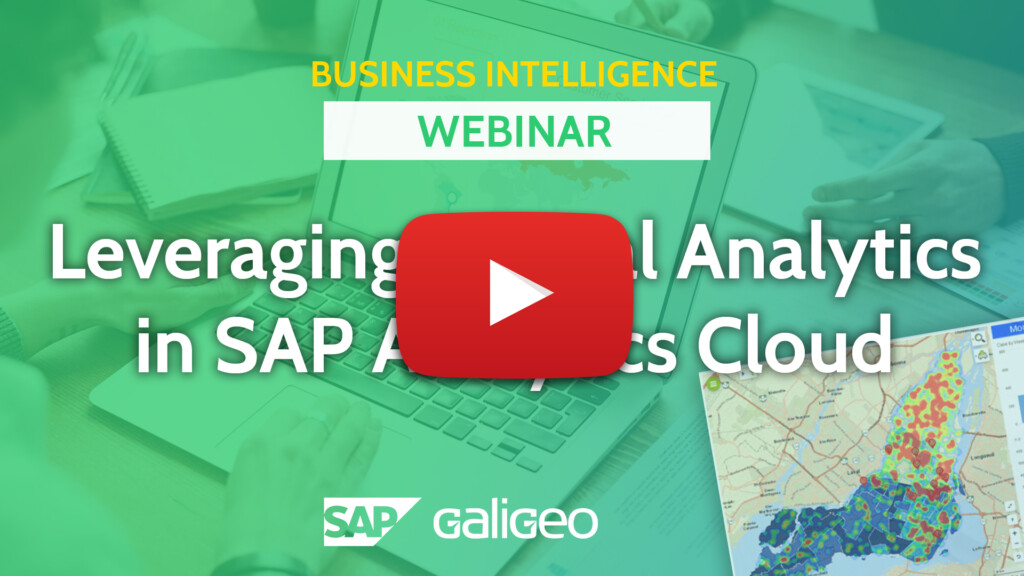 Webinar
Watch in replay our webinar about Spatial Analytics in SAP Analytics Cloud
Get a deep dive of Galigeo Spatial Analytics capabilities within SAP Analytics Cloud environment with this 30-min on-demand webinar.
Why choose Galigeo when it comes to Spatial Analytics and Geomaps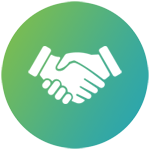 Trusted
Over 10 000+ professionals and experts like you are leveraging Galigeo solutions on a daily basis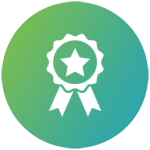 SAP Favorite ⭐
We are working and are certified by SAP teams for more than 10 years now, to ensure our solutions fit all SAP standards.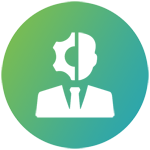 Expertise
You are not on your own. Our team of fully-trained experts is ready to help you harness all the value out of Spatial Analytics.