Location intelligence
Increase sales force efficiency
Are you looking for the best for your sales staff out in the field? Galigeo solutions integrate directly into their CRM software, helping them to view key data on maps. Better organisation and optimisation of sales activities is the name of the game.
Sales prospecting areas
Search for new business using more promising leads thanks to better identification of prospecting areas.
Client meeting planning
Save time on sales routes and visit more clients and leads using location intelligence.
Performance display
Get an overall view of your sales activities thanks to the power of mapping.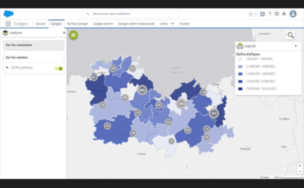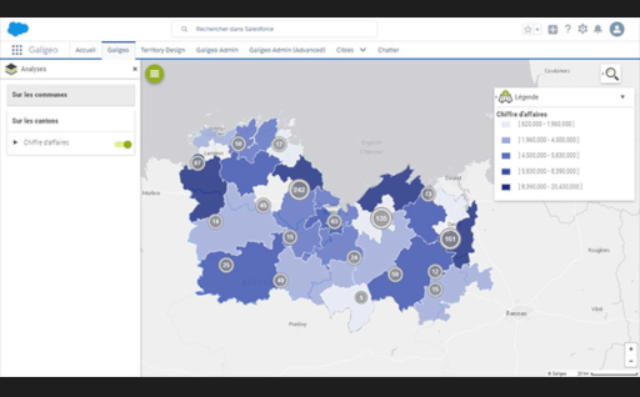 Identify high-potential areas
Mapping reveals under-exploited territories and territories with high turnover potential
According to the number of potential clients or from socio-demographic data, location intelligence helps you target your market more effectively.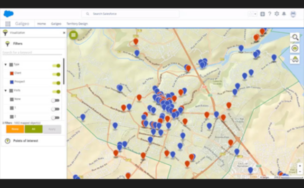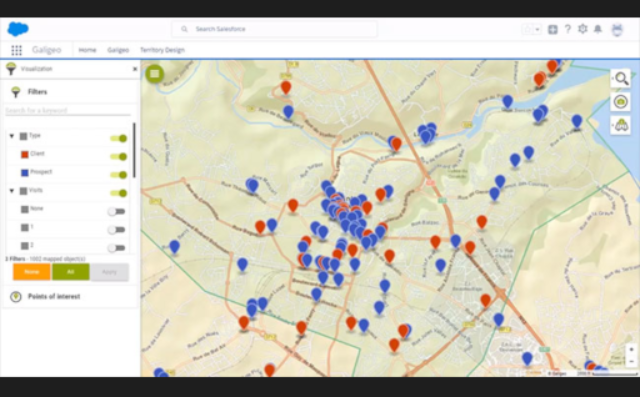 Determine your sales priorities
Tighten up your targets and action plans. Using location intelligence, you know which accounts are to be developed according to criteria such as number of visits, product category and type of industry.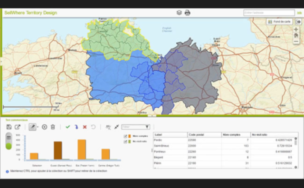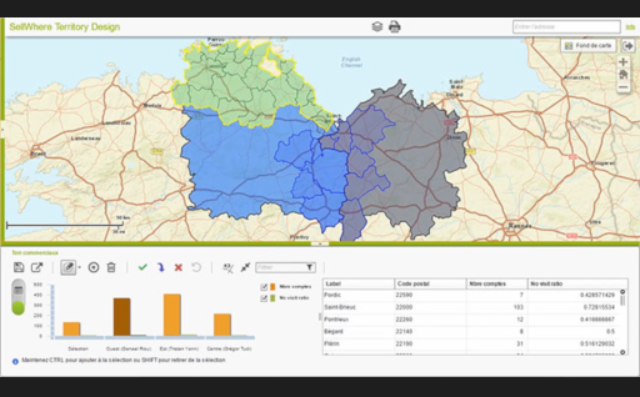 Create balanced sales territories
Create balanced territories in terms of turnover and number of accounts.
Assign clients and leads to sales staff according to an objective geographic division for better sales force management.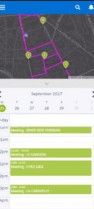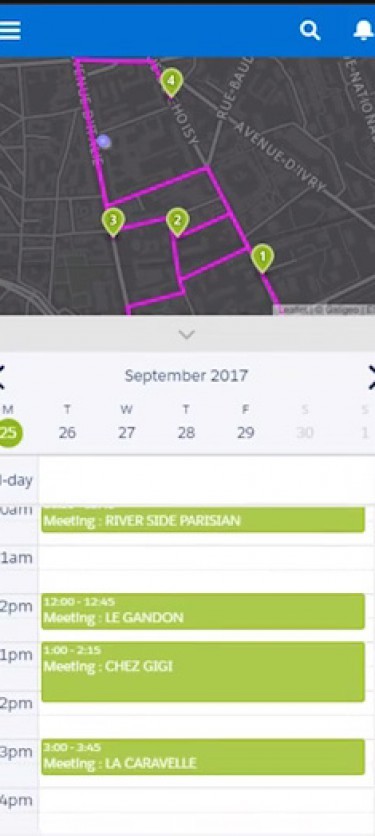 Plan and make the most of your visits
Make more visits by organising your route plans and covering territories more efficiently.
Save time by generating the most efficient itineraries for your sales visits.
Out in the field, locate leads that are close by.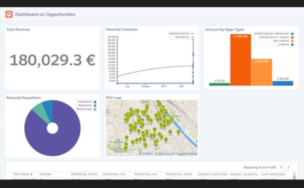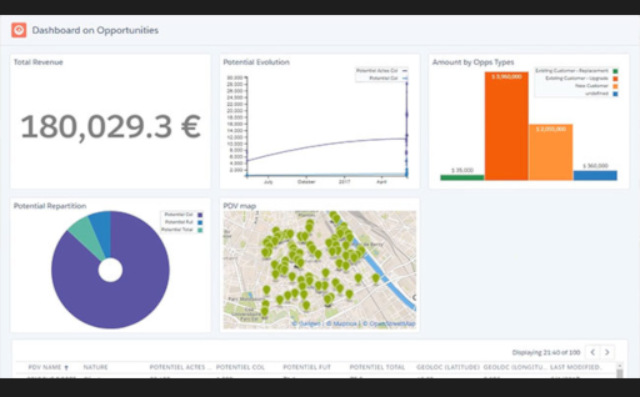 Analyse team sales performance
Track key performance indicators, such as opportunities, sales figures, sales increase, customer loyalty and number and frequency of visits.
Get an overall view of sales force business and efficiency.
A one-stop solution to meet all the needs of sales efficiency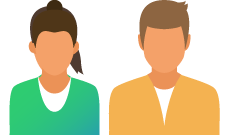 Managers
Determine sales priorities and territories to be prospected
Target high-potential areas and allocate sales territories to good teams.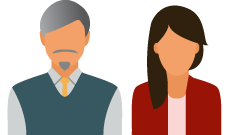 Sales department
Get an overall view in order to steer sales strategy
Make the most of your territories' potential with the use of mapping. Recommend action plans for your sales force.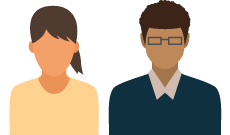 Travelling sales reps
Streamline your journeys
Locate targets and determine the best route plan.
Drive the efficiency of your sales force
As data comes into its own, companies and organisations also need to rethink their customer relations. Using geographical intelligence, you can draw on reliable, objective data to organise your sales teams better and increase their efficiency. Managers and travelling sales people can access simple software that enables them to optimise daily tasks including prospecting.
Success stories
They put their trust in us.
Giropharm
The power of mapping as a sales visit plan. With Galigeo's sales prospecting tool, the Giropharm network of pharmacies creates balanced sales territories.
Nhoss
Client meetings up 30% thanks to sales route optimisation. Nhoss is a manufacturer of vaporisers and e-liquids based in Lille, France.
Increase sales force efficiency with mapping
Would you like to know more about our location intelligence offering?