Spatial Analysis for IBM Cognos
Get better insights by unlocking the Where dimension in Cognos
Galigeo's Location Intelligence solution integrates into IBM Cognos, so users can extract new insights from business data by leveraging geolocated information.
With our solution, anyone can create, analyse and share representations of their data on a map, in just a few clicks.
The Most Comprehensive Mapping Solution for IBM Cognos
Compelling
Combine your big data from your BI with contextual data (economical, weather, …) and create compelling views of your business to get new insights.
Built for users
No need to be a GIS expert or experienced with geomapping to create maps and spatial analyses.
Native
Create, analyze and share your maps and insights without leaving your IBM Cognos environment.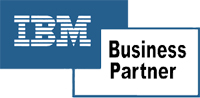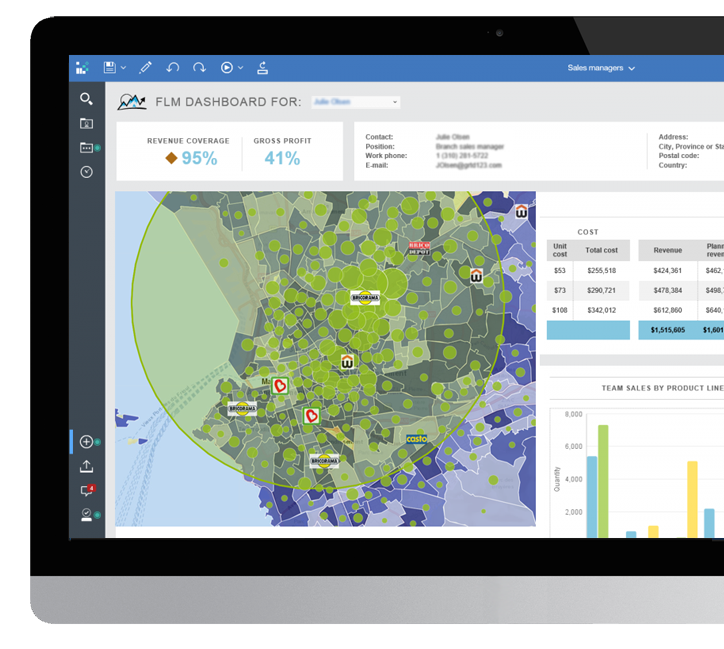 Galigeo For IBM Cognos
Improve your Operational Reporting with Location Intelligence
Create layers of geographical information from your data in just a few minutes. Give your users the possibility of carrying out relevant spatial analyses within their IBM Cognos tool.
Works with IBM Cognos 10 and 11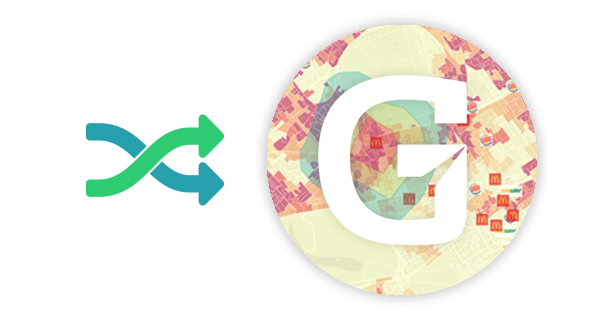 Case study
Migrate from Esri Maps to Galigeo for IBM Cognos with complete peace of mind
The Galigeo Location Anaytics solution is the only one to support IBM Cognos 10 and 11.
Every month, our teams of experts support customers with their migration from Esri Maps to Galigeo, so they can continue to benefit from location intelligence and improve their business.
All the features you need in one place
Galigeo for IBM Cognos allows you to successfully achieve what you want, by offering a wide range of features available in one-click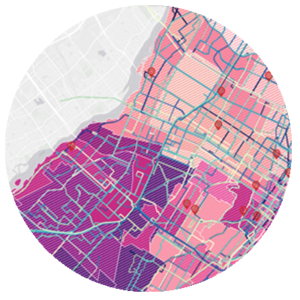 Data
Bring your own data and geodata on the map, and combined it with contextual data (economical, weather, …) to unveil correlations.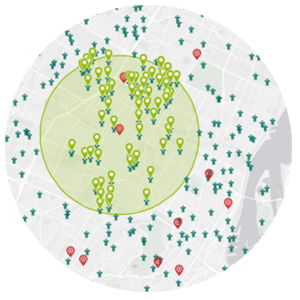 SPATIAL SELECTION
Leverage spatial selections tools like isodistance or drive-time to segment, filter and extract relevant data for your business.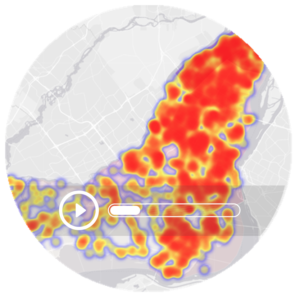 TIME-SERIES
Animate your data by picking a temporal axis, and watch the evolution of your business through space and time.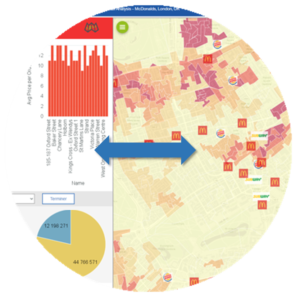 Bidirectional filters
Make actions on the map to interact with any other components from your dashboards and drive your operational insights, and vice-versa.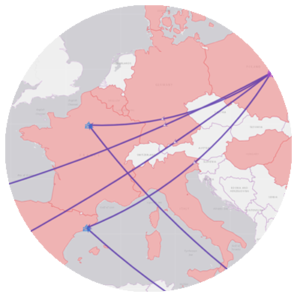 Advanced visualisations
Quickly get a fresh glance at data by activating advanced visualisations in one click, such as heatmap, cluster or flows.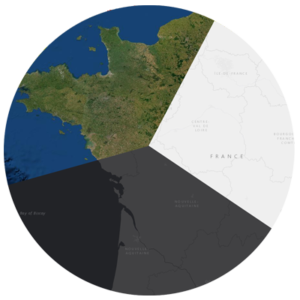 BASEMAP
Pick from a wide variety of basemaps (ESRI, OpenStreetMap, Google, …) or use your own from your GIS Server.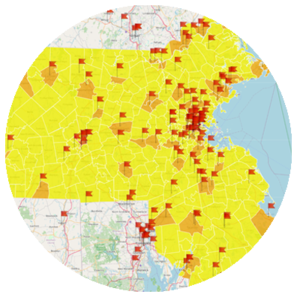 TERRITORY MANAGEMENT
Create, balance and consolidate new territories based on the KPIs you want, by drawing or automatically using the embedded Artificial Intelligence engine.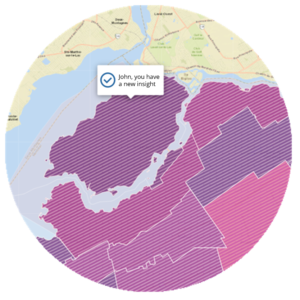 Collaboration
Collaborate by commenting and annotating directly on the map, to share your insights with your team.
In their IBM Cognos environment, users can create, analyze and share advanced geomaps in a self-service fashion.
Maps created with Galigeo are fully configurable, to make sense of data analysis and helps users get new insights.
BI and business users can let their creativity run wild thanks to a wide range of out-of-the-box features. They find the answers to all their questions, make better decisions faster, and the adoption of Cognos reports and dashboards is increased.
All thanks to Galigeo For IBM Cognos.
Success stories
Discover how Galigeo solutions integrated into the IBM Cognos environment help companies to improve performance.
It's time to take action
Improve your reporting abilities by adding a boost of location intelligence to your IBM Cognos tools – with the help of Galigeo solutions. Get in touch with us now.