IBM Cognos
Break through the boundaries of your IBM Cognos solution with mapping
Do more with IBM Cognos. Galigeo's Location Intelligence solution integrates into your Business Intelligence tool. With our solution, users can create, analyse and share representations of their data on a map in just a few clicks.
The most comprehensive mapping solution for IBM Cognos
Powerful
When the Galigeo solution is used together with IBM Cognos, users can display a huge amount of data on their maps.
User-friendly
No need to be a mapping expert to create map displays and spatial analyses of your data.
Integrated
Create and use your maps straight in your IBM Cognos.
In their IBM Cognos environment, your users can create, share and consult advanced mapping analyses that are fully configurable. Easy-to-use data visualisation to make sense of data analysis.
Your users can let their creativity run wild thanks to an ample range of off-the-shelf mapping features. Their strategic management is more effective, they find the answers to all their questions and make better decisions, faster – all thanks to our solution.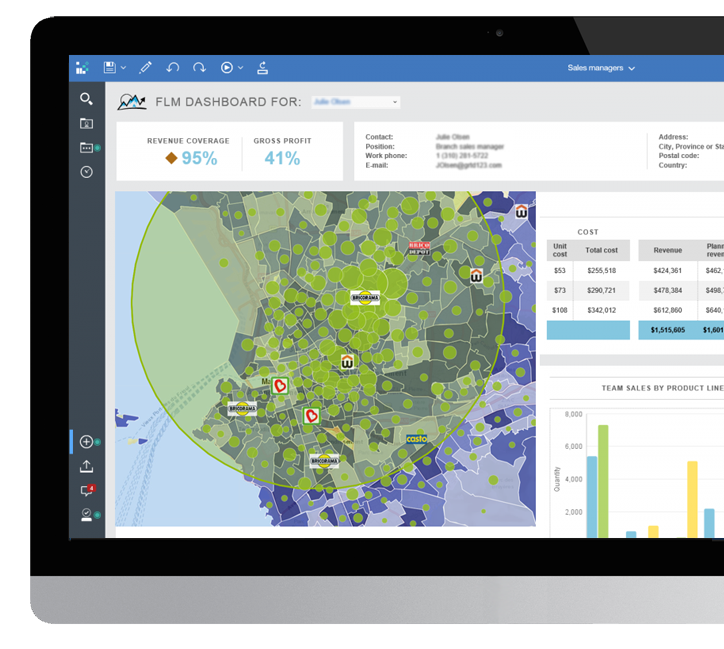 Galigeo For IBM Cognos
Improve your operational reporting with location intelligence
Create layers of geographical information from your data in just a few minutes. Give your users the possibility of carrying out relevant spatial analyses within their IBM Cognos tool.
Works with IBM Cognos 10 and 11

Case study
Migrate from Esri Maps to Galigeo for IBM Cognos with complete peace of mind
The Galigeo Location Anaytics solution is the only one to support IBM Cognos 10 and 11.
Every month, our teams of experts support customers with their migration from Esri Maps to Galigeo, so they can continue to benefit from location intelligence and improve their business.
From ESRI Maps to Galigeo
Replace effortlessly your deprecated ESRI Maps for Cognos with Galigeo, and keep on answering your location‑related strategic questions to improve your business.
Success stories
Discover how Galigeo solutions integrated into the IBM Cognos environment help companies to improve performance.
It's time to take action
Improve your reporting abilities by adding a boost of location intelligence to your IBM Cognos tools – with the help of Galigeo solutions. Get in touch with us now.