AI-Infused Geomarketing Platform
Geomarketing software to support your points of sale
How can you optimise the development, management and activities of your points of sale? How can you analyse your market more effectively to identify your catchment areas? Predictive POS by Galigeo is your geomarketing solution to help manage your shops and stores. Using location intelligence and predictive modelling, the software helps you to get the best from your network.
Ready to give it a go?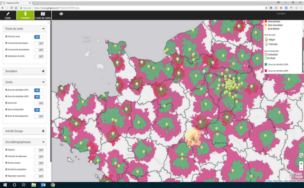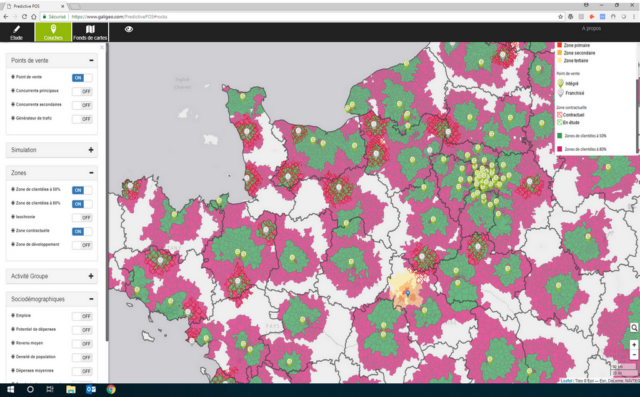 Automation
Create an unlimited number of ITTT (If This Then That) scenarios to integrate your tools and create seamless processes.
Savings
Make real cost reductions. Our clients report an average saving of 65% thanks to their geomarketing software.
Real time
In just a few seconds, export your set-up research, create your PIFs, simulate projected turnover and see the results in real time.
Ease of use
Be your company's mastermind! Predictive POS doesn't require any technical expertise. It's an ergonomic solution, designed especially for you.
Interoperability
Thanks to our APIs, you can integrate the geomarketing software into all your environments: GIS, ERP, BI, CRM… the possibilities are endless.
Multi-device
Wherever you are, whatever your medium or browser, Predictive POS is a SaaS solution adapted to your use.
An all-in-one geomarketing solution adapted to your business
You can choose one or more modules, depending on your requirements.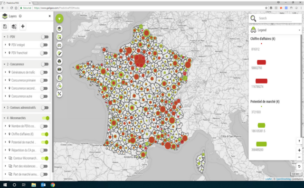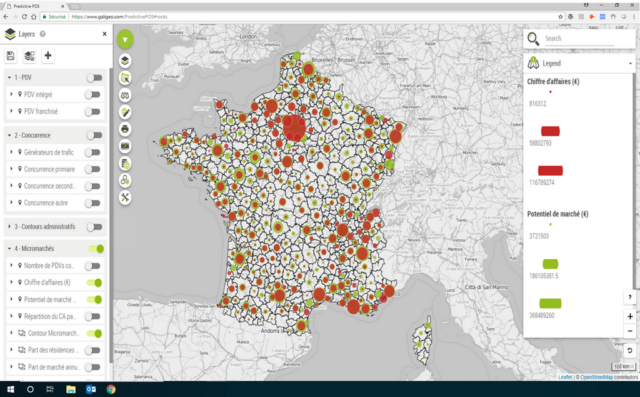 #Networks
Development plan
You can see at a glance on a map your current or future points of sale, your competitors' stores and the geographical data for your target market (e.g. economic and socio-demographic criteria).
Create your development plans in a few clicks of a mouse
Select your future store locations according to market data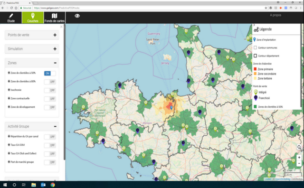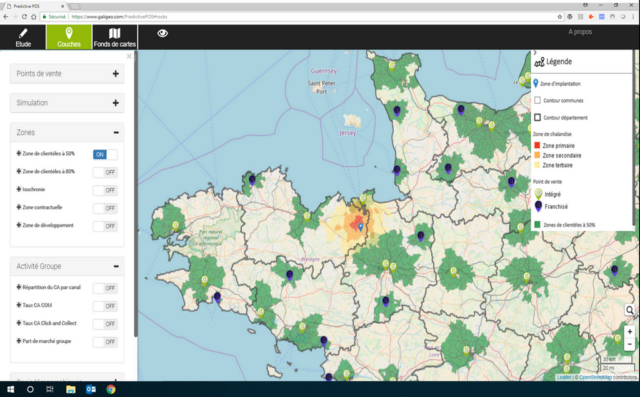 #Simulation
Point of sale set-up location
Create your own customised market research.
Assess potential, exclusivity areas and the competition's market share
Simulate potential set-up locations
Create turnover models for future points of sale
Identify key indicators, such as the risk of cannibalisation, and weigh up the value of the omnichannel approach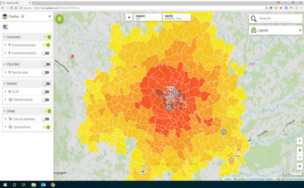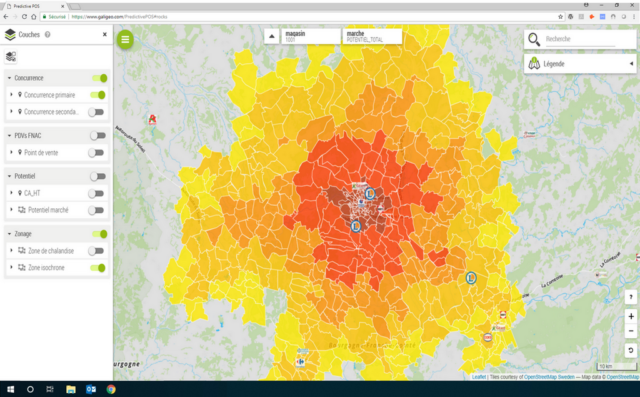 #Performance
Sales performance
Evaluate point of sale results and territory potential.
Create models of anticipated turnover for your store
Compare your results with those of other stores with similar characteristics
Analyse discrepancies using intuitive dashboards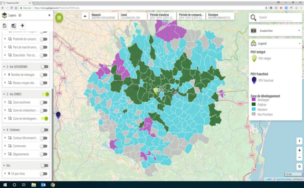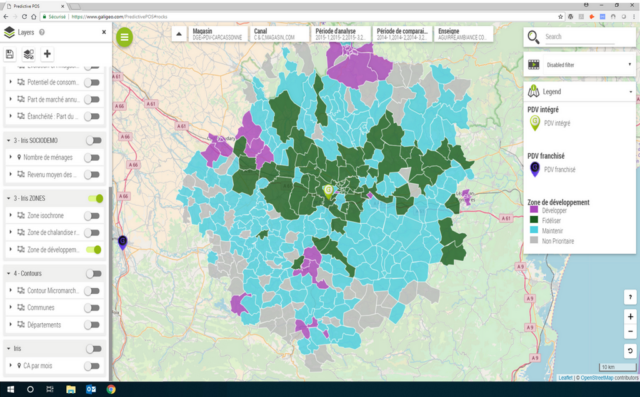 #Communication
Local communication
View your distribution areas and adjust your marketing campaigns as your targets change.
Monitor population movement within your target areas to improve customer knowledge
Work out the costs and return on investment (ROI) of your communication campaigns
PREDICTIVE POS IN NUMBERS
820
Simulations performed byweek
5+
Points of sales openings by week
40,000
Saved by our customers, every week
A solution built on detailed data
Predictive POS is based on several sources of information: internal business data from the point of sale network and external data enhanced by data science.
The
3Ds

: 3 pilars for 3 dimensions
View
Turnover
Customer location
Till receipts
Exclusivity areas
Knowledge of the competition
…
+
D

ata
from external sources
Analyse
Sociological
Demographic
Meteorological
Topographic
Micro-markets / population centres
…
+
Predict
Machine Learning
Deep Learning
Artificial intelligence
Predictive modelling
Random forests
…
Putting their trust in us
Why choose Galigeo for your geomarketing solution?
A partner on a human scale, understanding your business needs
Dedicated data science experts
A network of worldwide partners to meet your expectations
Would you like to know more?
Fill in the form and one of our experts will get back to you as soon as possible.