Optimise your local communication
Geotargeting – a marketing champion for your points of sale
With Galigeo solutions, you can maximise the impact of your brand image by using relevant street-marketing and customer-loyalty campaigns.
In a click of a mouse, you can view your distribution areas and then adjust your targets according to economic, sociological and demographic criteria, etc. With artificial intelligence and machine learning engines, you can then determine the cost of your marketing activities and project the return on investment (ROI).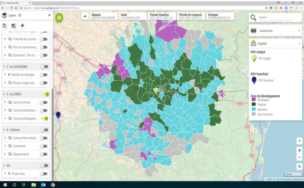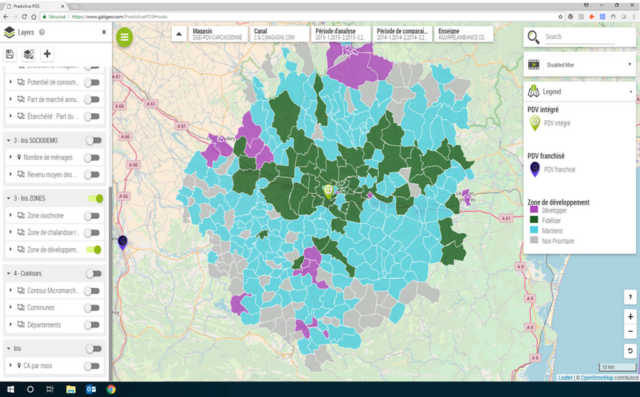 What sort of marketing uses?
Why use Galigeo geotargeting solutions?
To create distribution areas
Mark out and view your distribution areas. Customise your methods, promotional offers and messages, bringing them as close as possible to local trends.
To improve customer knowledge
Get to know your target audience better according to economic, sociological and demographic criteria, etc. Understand the profile of existing and potential customers.
To predict ROI
Our artificial intelligence and machine learning engines determine the cost of your campaigns and estimate their return on investment (ROI). It's time to get proactive!
For mobile tracking
Add mobile tracking data in order to monitor population movements more effectively in each research area. Churn rate reduction, coopetition strategy, partnership synergy… identify, analyse, decide!
What sort of users?
User-centric and ergonomic, our geotargeting solutions are designed with you in mind.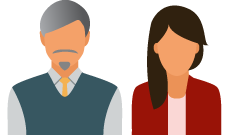 Point(s) of sale management
Understand your environment
Discover at a glance on a map the location of your customers, potential customers, competitors, catchment areas and distribution areas.
Take informed decisions
What do you need to spend for what sort of results? Project the ROI for your marketing campaigns using machine learning algorithms.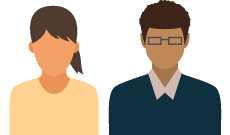 Central marketing service
Understand the economic fabric of a target territory
What are the economic, sociological and demographic characteristics of your research area? How do they change over time and by season?
Make recommendations at local level
Thanks to geotargeting, you speak the same language as your franchisees, affiliates and employees. You understand their local issues and adapt your marketing levers.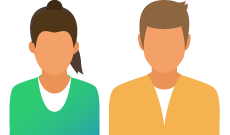 Communication service
Grasp local issues
Visualise the impact of a billboard campaign according to where the billboards are placed. Learn how to position them where they need to be to seize business moments.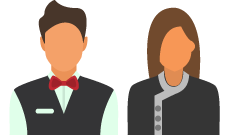 Customer-loyalty service
Segment your client portfolio shrewdly
According to the profile of your clients, segment your portfolio to launch targeted operations (sending out coupons, invitations, etc.) to coincide with one-off events (wine promotion, back to school, etc.).
Drive your local communications strategy with geotargeting
Loyalty, branding, brand image… whatever the objectives of your local communication, data is now at the forefront of any strategy. Through precise, objective targeting, geomarketing enables you to approach your communication activations rationally and send more pertinent messages, which are fully adapted to the profile, location and desires of your prospects.
Success stories
They put their trust in us.
We're here for you
Read our white papers to find out more about our solutions or get in touch with us. We'll be delighted to find a solution to help you achieve your goals.