Cora revolutionises POS communication with location intelligence
A key player in the European hypermarket sector for almost 50 years.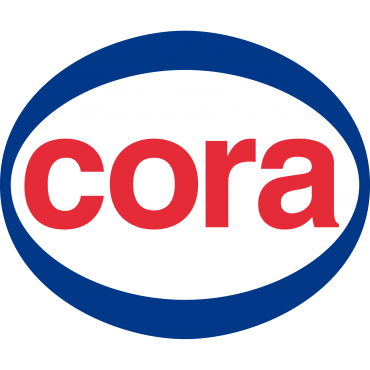 Store managers and employees at Cora have a lot of leeway when it comes to marketing. They adapt their store communication to the needs of the local markets. In order to do this, they rely on analysis of point of sale performance and on mapping using location intelligence. Their goal is to optimise and boost the impact of local communications.
Targeting marketing strategy and customising flyer distribution
In the fight against customer attrition (churn), improving local communications and event communications seems to be the go-to solution. And the advantages are two-fold:
Improved market targeting using geomarketing
Optimisation of local communications: ultra-targeted distribution campaign
The previous tools used by Cora teams had reached their limits. The preserve of specialists, they slowed decision-making down by increasing the number of contacts involved.
Every campaign was developed at headquarters and was only improved through iteration, without input from any modern resources (machine learning, data science, geotargeting, etc.). Performance didn't always come up to the mark, costs were poorly managed and return on investment (ROI) was difficult to work out.
A global solution for local action
At the drop of a hat, Cora teams turned to Predictive POS by Galigeo, geomarketing software that every decision-maker can use simply and independently. Thanks to real-time data, accessible in a few clicks of the mouse, the solution enables users to define and view their distribution area and then adjust targets according to economic, sociological and demographic criteria, etc.
Artificial intelligence and machine learning engines determine the cost and project return on investment (ROI) for each campaign.
And the cherry on the cake – Cora can add mobile tracking data in order to monitor population movements in each research area and to answer questions such as:
Is it profitable to open on Sundays? By tracking the movements of regular customers on Sundays, the Group works out potential loss or possible profit.
Which other shops do Cora customers visit? This information enables the brand to prevent attrition or to enter into partnerships with other market players.
Where should advertising billboards be placed to build customer loyalty or win over potential customers?
About Cora
Cora is a hypermarket brand belonging to the Louis Delhaize group with 60 hypermarkets in France and about ten each in Belgium, Luxembourg and Romania. It is part of the same group that owns Match supermarkets, the online supermarket Houra, Truffaut garden centres and Animalis pet stores.
Benefits
#More effective campaigns
Prioritise marketing activities and distribution areas
Adapt means of communication and content to the population and its expectations
Build existing customer loyalty and win over potential customers with high purchasing power, in the vicinity
#Activities by consumer profile
Segment customers by consumer habits
Target specific sales activities (sending out coupons, invitations, etc.) to coincide with one-off events (wine promotions, back to school, etc.)
Would you like to know more?
Get in touch with us now and our experts will get back to you as soon as possible.