Giropharm: The power of mapping as a sales visit plan
Giropharm, a cooperative network of 750 pharmacies, helps pharmacists adapt to the changes of their profession with the support of a strong network.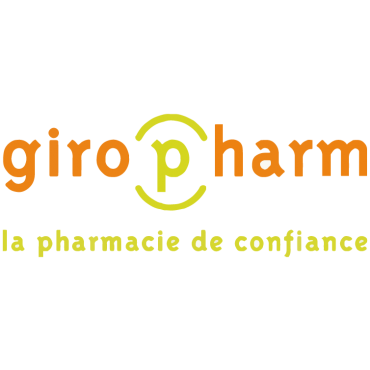 Allocation of sales sectors made easy
In the past, Giropharm's sales prospecting tool wasn't up to the job. Without geographical representation of sectors, the process of manually allocating sales territories was long-winded and tedious.
In addition, locating pharmacies near to where a sales advisor was based was done by searching online, consulting directories, for example. Upgrading to a modern sales prospecting tool was long overdue.
Creating equal and balanced sectors
With Galigeo's location intelligence solution, the Giropharm pharmacy network can at long last create equal and balanced sales sectors. By using intuitive maps, the sales force streamlines sales prospecting and increases loyalty among member pharmacies.
Thanks to the Galigeo sales prospecting tool, Giropharm has been able to:
Increase the number of sales advisors while streamlining their location and the location of members.
Keep current allocations so that advisors continue to work near to where they live.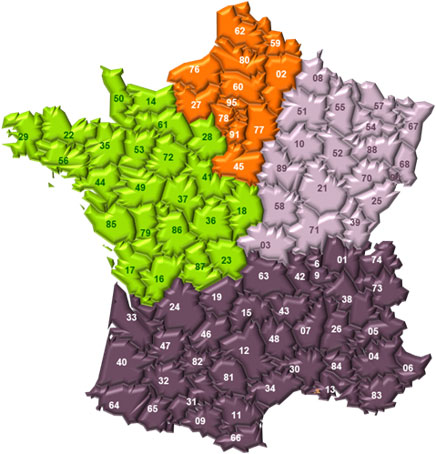 A tool to streamline sales prospecting
By using mapping, Giropharm improved the targeting and use of its existing potential client base. And the benefits soon became evident.
Better understanding of sectors for prospecting by sales staff
They now avoid recruiting new clients that are too close to existing members, thereby preventing competition between pharmacies in the network.
They can identify more clearly areas with no network members.
Winning new clients by controlling high-potential areas
Accurate targeting of leads.
Organising sales routes, making the most of each journey and limiting time on the road.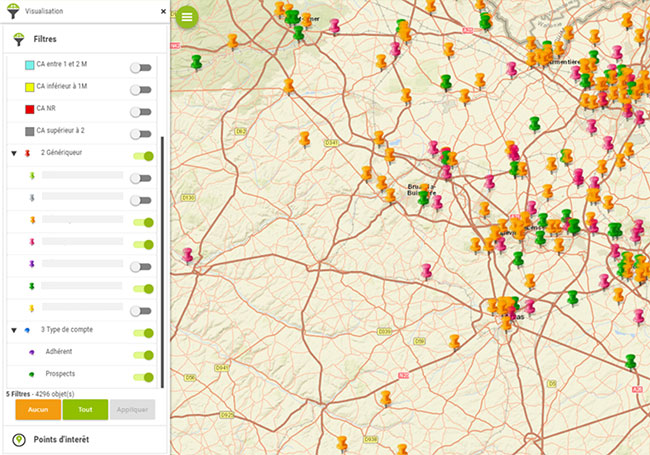 Better monitoring and greater loyalty
Depending on the subscription that the pharmacy pays to the cooperative, Giropharm agrees that an advisor will make a certain number of visits.
The sales prospecting tool monitors which members require a regular visit, ensuring overall satisfaction with the network. With the click of a mouse, a filter indicates which visits are overdue on a map.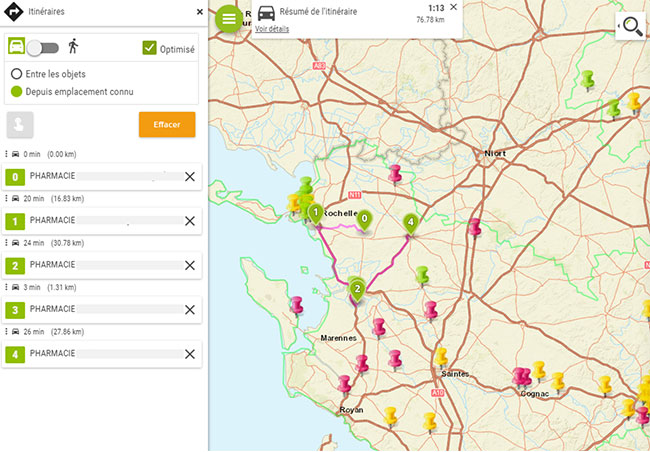 Fine-tuning prospecting and customer knowledge
Today, Giropharm's software is a lot more than a mere location intelligence tool used primarily in the sales process. Scores of maps have been developed over time to identify:
Members who are nearing retirement in order to identify pharmacies that may come up for sale in the near future,
Members applying for certification for whom support workshops need to be organised,
Network pharmacies not displaying the logo; campaigns then need organising with a national identification kit.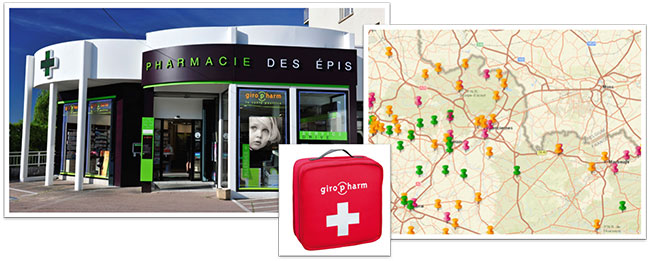 Sales teams love it
Time saved when defining sectors, more manageable sectorisation.
Better targeting of prospecting visits.
Quick correction of CRM addresses.
Assistance to new sales staff to help them gain ownership of their territories.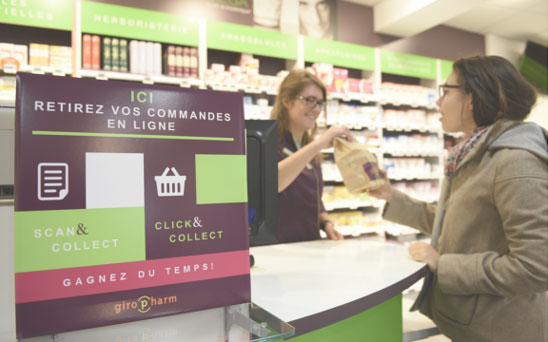 About Giropharm
Founded in 1986, Giropharm is a cooperative network of 750 independent pharmacists who share a modern vision of their business and the healthcare service they provide to patients.
Would you like to know more?
Get in touch with us now and our experts will get back to you as soon as possible.